Hesh Powder Hair Mask with BRAHMI
You can buy brahmi oil or make it yourself. The same situation is if you want a homemade mask, conditioner or hair rinse. Al you need is to buy powdered brahmi from Hesh. Indian powder hair mask is perfect for your own DIY cosmetics. If you are at the beginning of your journey with Indian oils, you should definitely try out this product.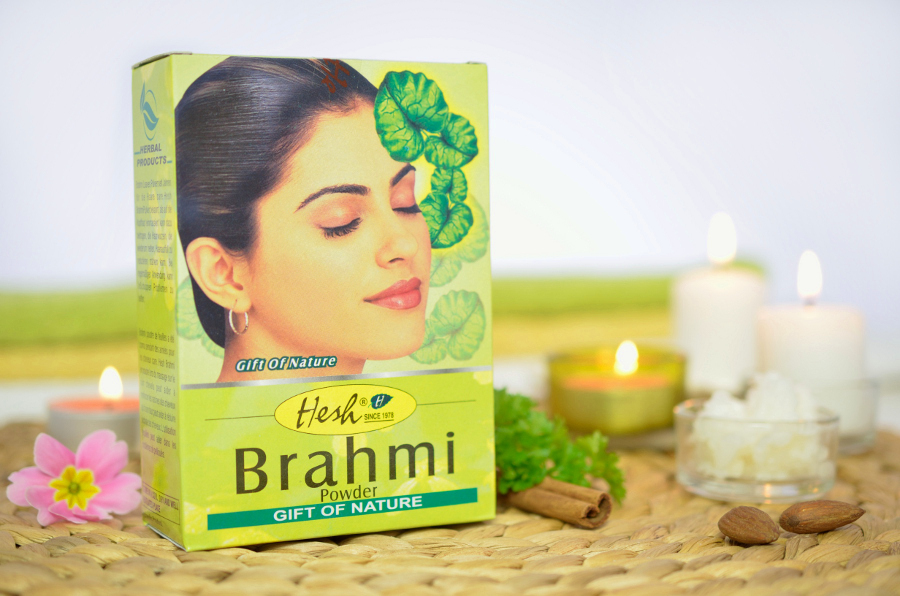 Indian oils can often be difficult to find, not everyone might be fond of their consistency. They also have characteristic scent. What is more, you need to have some knowledge in the field of hair oiling to make the best of brahmi oil. Its main tasks are to strengthen, improve condition and add gloss to your hair. Powdered brahmi herb from Hesh is the best solution for beginners. Why?
Brahmi from Hesh can be used for your homemade cosmetics. 
Brahmi oil.
Is it difficult to buy natural brahmi oil in a good price? You do not know any reliable sources to purchase an original oil? All you need is a powder hair mask from Hesh and your favourite natural oil which will work as a base, for example sunflower oil, jojoba or sweet almond. After a few days, macerate will be ready to use. Such blend can be applied on hair and scalp because it does not contain any preservatives and is 100% natural.
Brahmi hair rinse.
You are not a big fan of applying oils on your hair? Perhaps you do not have enough time to perform hair oiling and prefer faster methods of care, such as hair rinses? Then Brahmi hair mask from Hesh is the perfect solution for you. Pour boiling water over a a teaspoon of two portions of dry herbs. Leave aside o brew. Wait a little bit longer for the infusion to cool down. Next, after washing your hair thoroughly, rinse it with the preparation. It works as good as brahmi, however, in fact, it is a faster method.
Brahmi is a hair mask from Hesh with many valuable properties
strengthens hair from roots to ends,
inhibits excessive hair loss,
prevent premature greying,
provides wisps with resilience and shine,
makes hair soft and lightweight.
Brahmi is an Asian plant, which beneficial properties are known and used in Ayurveda for ages. Nowadays, brahmi oil becomes more and more popular product used in hair care. Brahmi powder hair mask from Hesh is definitely a cosmetic worth trying out.